Jimmy Rogers Comic Book

Jimmy Rogers Tribute - Unleash Your Greatness
Jimmy Rogers was the definition of greatness. The founder of the Brixton Topcats, a coach to his players, and a hero to his community, Jimmy was all of these because he believed in the unlimited potential inside everyone; and he knew that discipline could unlock it for all to see, especially through basketball.
His dedication and vision grew the Brixton Topcats into a successful club that makes heroes today–because at the end of the day, they know we're all heroes. This was Jimmy's gift. His greatness.
To commemorate his legacy and celebrate Jimmy's Jam, a day of basketball in his honor, we partnered with Urbanime, the Brixton Topcats, and Brixton Street Wear to pay homage to Jimmy's memory and bring his story and mission to life for the next generation of Topcats and beyond; inspiring them to find their own greatness by taking a look at a club that makes heroes because they are heroes.
Urbanime, a culture company leveraging the power of comic book storytelling & comic experiences to empower Black and Brown audiences, was a great collaborator to shine a beacon on Jimmy's story and its influence on the Topcats and its future.
Commissioning Urbanime's "Mixtape," - a culture magazine enhanced with comic art and storytelling which takes deep dives into trends, topics, and themes in culture - allowed us to explore the rich history of the Topcats and UK basketball culture through editorials, interviews, and original comic book stories.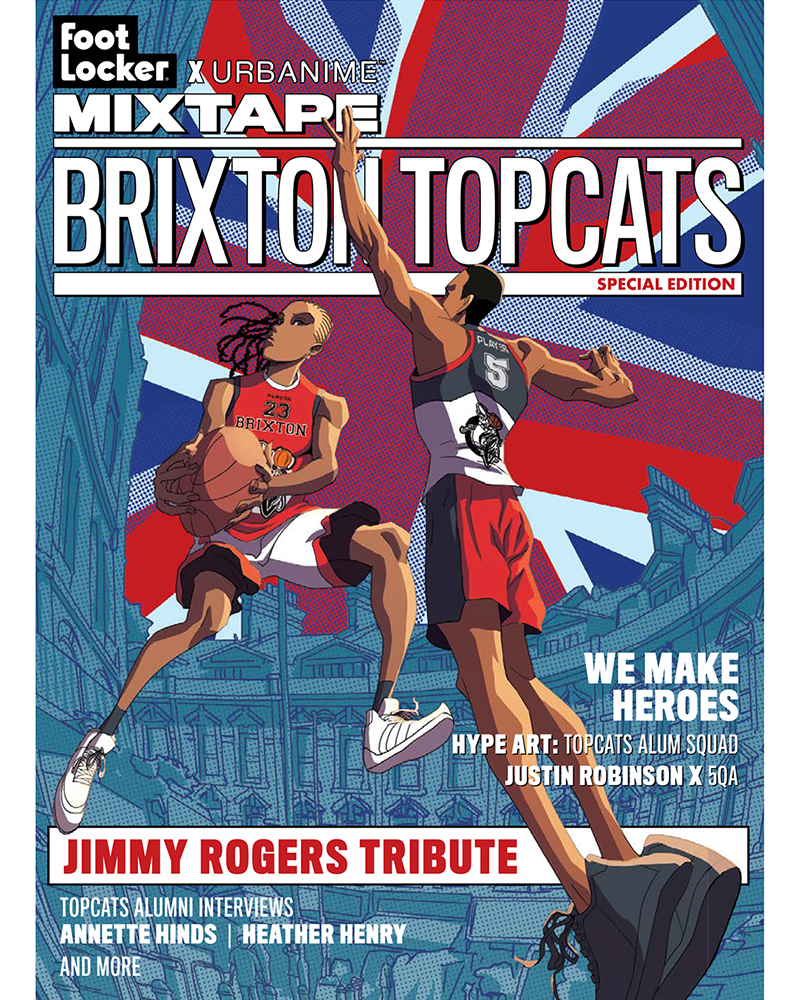 More specifically, Urbanime's Special Edition Brixton Topcats mixtape explores the club's dedication to the sport, the love we all share for the game, and its ability to unlock our inner superpowers; be it a doctor, lawyer, athlete, friend, neighbor, or loved one who betters the lives of anyone they come across.
To bring this special edition mixtape to life, Urbanime partnered with Mayward Martindale, a sports journalist and basketball enthusiast from Brixton, to be guest editor of the magazine.
Getting right to work, Mayward interviewed current players and Topcats alumni to discover incredible stories like Jimmy's son and Topcats President, Richard Thomas, whose favorite moments with Jimmy would drive an original comic about Jimmy and his passion for basketball.
Widening their range, Mayward and Urbanime highlighted Topcat alumni as the heroes they truly are through the lens of imaginative comic art; equipping them with powers and abilities unique to them. 
Even further, Brixton Street Wear and Urbanime teamed up to bring Jimmy's catchphrase, "Drive the Body", to life with a limited edition, comic-illustrated shirt for sale at Brixton Foot Locker location.
The final piece to illuminate the Topcats story, we transformed the Brixton Foot Locker into a corner shop complete with spinner racks. We amplified the day with social media to further highlight the idea, "Topcats make heroes because they are heroes."
Ultimately, this collaboration was about raising the game for Topcats and illuminating their incredible history embracing talent and growing basketball in the UK–one dribble, lay up, and free throw at a time.